Fendress Fenders – No Compromise Inflatable Yacht Fenders
by Aleix Escorsell 23 Sep 17:00 BST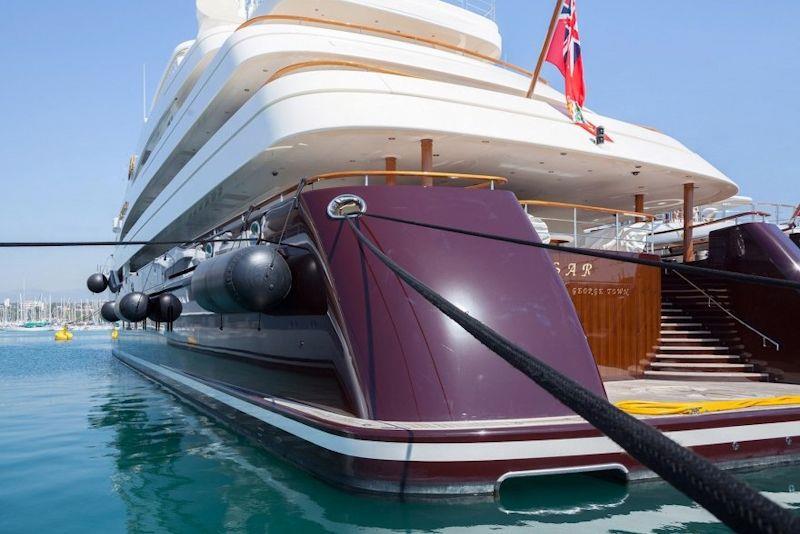 No Compromise Inflatable Yacht Fenders © Fendress Fenders
Started 15 years ago in the French Riviera, Fendress are specialists in inflatable yacht fenders. These fenders are designed to be light, strong and ultra-resistant. Plus, they look great!
We're big fans of inflatable fenders here at Upffront. They are lighter and less cumbersome than traditional fenders.
Where Fendress really stand apart from other inflatable fenders is that they do not use an inflatable internal bladder, instead, the entire fender is air-tight, which brings some interesting benefits…
Stronger
Fendress use a combination of consolidated PVC and Kevlar reinforcement to create a strong protective layer. This makes it one of the strongest inflatable fenders on the market. Watch this video on a Fendress fender taking on an excavator!
The majority of the range (except the largest sizes) are supplied with a single stainless ring on the top and bottom of the fender. However, a Fendress Multi D-ring kit is available to spread the load, if extra strength/security is required. A stainless swivel is included in the kit to connect the 2, 3 or 4 ring configurations, which allows the fender to rotate with the movement of the boat when manoeuvring,
The combination of a solid PVC body, Kevlar reinforcement straps and HR Stainless steel rings means the fender is capable of withstanding a huge amount of strain compared to other fenders. Check out the extension test done by an independent laboratory:
Lighter
The Fendress Fenders are significantly lighter than traditional rubber fenders making it easier for your crew to handle. For example, a 6ft Fendress fender is approx. 12kg, which is less than half the weight of an equivalent rubber alternative.
Saves Space
Despite the fender being made of PVC and not a textile material, it is still extremely flexible and very compact when fully deflated.
Easy to inflate
The Fendress Fender uses a high pressure, waterproof valve and can be inflated using any standard pump, used in other water-sports e.g. SUP or kite surf. The valve is standard across the whole range, so you will be able to inflate all your fenders with one pump. Inflating and deflating the fender is quick and extremely easy, so you can be ready to berth in no time.
The Fendress range
We currently have Fendress' cylindrical and round fenders available on the website, but others are available on request.
The Cylindrical fenders are a traditional and popular choice among sailors. They can be hung vertically or horizontally on the hull for optimal coverage.
The round fenders are great for protecting areas of the boat that are further from the dock, such as the stern or bow, and very handy as a "floating" fender during manoeuvres.
There are more than 30 sizes available to fit boats of all sizes. They also come in a range of five colours: white, black, grey, navy and anthracite.
Fenderess Fenders are great for sailors who have limited space on board their boat, or those who want a lighter, more versatile fender that can save them some weight and space without sacrificing durability.
If you have any questions, please feel free to contact us at or see the full range of Fendress Fenders.